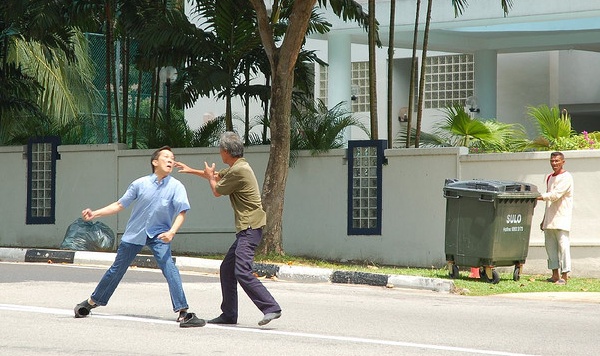 The hubbub around Tennessee and Sierra Nevada Brewing got me thinking again about an issue that needs some urgent attention as craft breweries grow and more people blog/report about them…
…responsibility when blogging about breweries (and insert any other business here).
There are a lot of pieces to that puzzle but the one I will largely focus on today is reporting about an issue of contention between at least two parties.
Here are some thoughts, observations and other learnings from the past few days.

After I first learned about what I've dubbed, "the Tennessee situation," on Saturday morning, I shot off the following email to Communications Coordinator, Bill Manley, at Sierra Nevada.
Hi Bill,

Can you confirm/tell me anything about the brewing situation in Tennessee?

Still doing the research but just wanted to give you a little lead time as I continue to dig into the facts & speculation.

May post something this afternoon.

Adam
Manley later confirmed that I was the first reporter to contact him for comment despite rumors spreading days earlier. That was an important email because the rumors were floating around that Sierra Nevada had lobbied for anti-competitive liquor legislation in Tennessee. A contentious issue. I wanted to give him as much lead time as possible before I published anything knowing the stakes with the company's reputation. The one other thing that I should have done there is asked that he acknowledge the request so that I would know how to proceed with my reporting. Would I get their comment or not?
The problem: it was Saturday.
Do people stop talking on the weekend? No. Does the internet sleep on the weekend? No. Do salacious rumors sometimes surface on the weekend? Yes.
Brewery offices still largely operate 9-5 M-F though.
A RateBeer user created a thread early Sunday afternoon on what is the second (third?) largest beer site on the internet titled, "Sierra Nevada Destroying Beer in TN?" That thread has since generated over 2,500 views and who knows how many people read through it to understand the situation or how many people just made a judgment off of a headline. At the same time, I understand why locals needed to build word of mouth ahead of an upcoming vote on the legislation.
To be the spokesman or even in management at a public-facing company, you have to consider being on call 24/7 and watching out for stuff like that.
I was eager to come out with my report at that point and it was all ready to go. I had given Manley a day to respond. Sure, it was the weekend but people have their email going to their phones at this point, right? I was pretty much in the clear as far as my journalistic responsibilities to hit publish. The post presented the facts and the speculation as they were laid out by others but something didn't smell right about the whole situation. Having followed Sierra Nevada closely over three-plus years, it just felt like there were critical pieces missing.
So I decided to wait until Monday morning (West Coast time).
Before Sierra Nevada's work day started on Monday, I had already contacted the Alcoa development board, the Blount County development board, a number of local distributors and even a local beer retailer. If I didn't get a comment from Sierra Nevada, I wanted to see what I could get out of other sources to help the story's credibility.
Manley did call and provide me the information that I needed to put through a more balanced post, one that wouldn't incite a mob.
In the end, I felt much more comfortable having reported after getting both sides of the story. I have made mistakes with this in the past and I have been public about them.
In summary, here are a few takeaways:
1) It is OK to report about craft breweries (and other businesses) in a negative light.
Repeat that one back to yourself slowly. This is a whole topic in itself and my comments here should probably be worded carefully so I'll reserve them for a future post.
2) Always attempt to communicate with the party that will be damaged with your story and give them time to respond.
As I alluded to before, every one of us that is part of an online community is empowered with a loud voice, one capable of spreading a message farther than we can possibly imagine. It is terribly easy to start a mob rally these days so it is generally re-assuring to see in a report that someone tried to get the other party's take. It shows respect to the other party and that the reporter is taking care of the reputation of those involved.
I struggle with how much time to provide and there is not set rule on it. In general, the more damaging the story, the more important it is to do whatever you can to get some type of comment from the other party. A lot of times, it may not be what you are looking for or it will be a simple "no comment" but at least you gave it a shot.
When in doubt, wait. In your communication, give the person a tentative reporting deadline and ask that they acknowledge your request even if they can't provide a statement right away…which will help you determine how long to wait.
Nothing personal against the Buffalo Beer Lodge blog but here's an example of what not to do…
An original report was published on March 28th saying that Beechwood Distributors would be "seeking legal action" against Dogfish Head for breach of contract. Note how the report doesn't convey an attempt to contact either Beechwood or Dogfish Head. On April 11th, BBL reported that Beechwood was not and had "not pursued any legal action against Dogfish Head."
Is that a retraction? Why is there a two-week gap? I'm left confused both as a fellow reporter and a reader.
3) On that note, scoops from anonymous sources don't carry much weight unless you regularly report scoops from named sources (or you have broken news in some fashion).
Again, nothing personal against Don and Jim who run a well-read beer blog as The Beer and Whiskey Brothers. Admittedly, I haven't been following along from the very beginning so I don't know for sure but I'm under the assumption that they are not known for breaking news.
They reported back in January that Brewmasters was cancelled (something that was later verified but not until nearly three months later) and reported last month that A/B purchased Goose Island in order to self-distribute. In both cases, they didn't name a source and instead used the phrase, "I have it on good authority." Both posts were met with worthwhile discussion but also some level of skepticism.
Again, you can't always get comments from the subjects. However, you can usually get comments from industry people with some knowledge on the situation or link to pieces of information that compliment your own thoughts. It will come off as that much more credible.
4) Always link to or clearly identify sources when you have them. That one time you don't will bite you in the ass.
I've learned this the hard way more than a few times.
Almost two years ago, I wrote an ill-formed thought piece that drew some attention to the few breweries that were not growing at the time among the hundreds that were. I originally reported that Lost Coast Brewery had declining sales in 2008, a figure that was published in The New Brewer. For whatever reason, I didn't make it clear in that sentence where I got that stat.
I got a long email from the brewery the next day complete with figures showing their growth curve over the last several years. I was asked to formally issue a retraction post and apologize to the brewery publicly and I did so. All because someone with The New Brewer put in a (-) symbol indicating a decline when it was an increase and I failed to note it as my source.
5) When you screw up, retract.
Post up the correction/retraction at the top of the original post and, if possible, make a new post with the retraction itself as you can see I did in the link above. Or you may consider sending out an update to the original post on Facebook and Twitter. Some notice of an update is necessary because most people won't click back to the original post to re-read it.
I've screwed up my fair share and continue to do so. Most people will forgive you for a lack of focus and attention to detail. Protecting the reputation of the subjects you are writing about is a different story. Keep this stuff in mind.
—————————
Photo Credit: Jaevus on Flickr (Creative Commons)