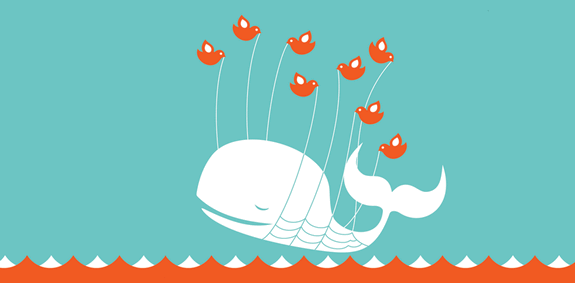 This post is going to sound like a lot of whining and moaning and bitching.
So be it.
Remember when I said not to trust any company telling you to embargo information?
I failed to follow my own damn advice today.
Twitter bit me today. Hard. Yes, THAT Twitter.
Here is the story…

On June 14th, when I go to follow the @CoorsLight Twitter account, I learn that it is using some age-gate tech that I have never seen before. A couple weeks later, I finally get around to sending an email to Twitter's Communications team regarding the new age-screening service that it would eventually announce (today). A couple email exchanges later, a Comms. team member sends this back to me:
—
Without going into a ton of detail, would you be able to wait until the week of July 9th to write this? I will be able to get you in touch with a spokesperson then which should make your piece a bit more comprehensive. Sorry for the ask, and totally understand if you can't wait. If that is the case (not being able to wait), we wont be able to comment quite yet.
—
To which I reply:
—
I think I'm well ahead of this story so I can wait. Am I correct in that this is due to someone's schedule and not so that other publications like TechCrunch & Mashable can get in on this? Don't mean that to sound crass. As a very tiny, hustling publisher, I've just been bit so many times by "embargoes" and it is typically due to a company wanting to provide a large publication with the scoop.
—
To which the Comms team member replies:
—
Hey, totally about scheduling (the 4th holiday) and having collateral in place to give folks like yourself to get a full view of the news – not due to giving it to TC or anyone like that. Thanks for being straight, allows me to do the same.
—
Some further emails are exchanged and we discover that we both grew up in the same place..yada, yada, yada…
Flash forward to yesterday and I send another email to get an update now that we are past the holiday. I get this back:
—
Thanks for sending a note. Can I touch base with you tomorrow on this? I'm in all day meetings, but your request has not been forgotten and you will be hearing from me in more detail soon.
—
Perfect. Thanks.
—
Then today, I get this email delivered to me at 4:05pm EST.
—
This just went live – http://www.buddymedia.com/newsroom/2012/07/twitter-buddy-media-age-screening-brands-marketing/
I think this was the news that you were looking for

let me know if you have any questions.
—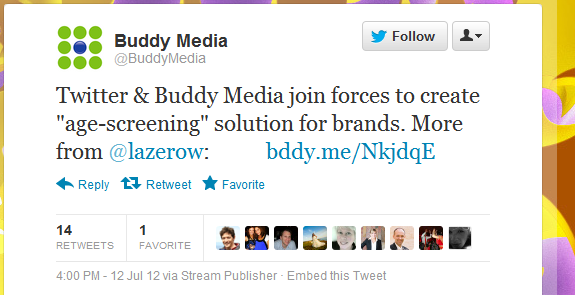 I am incredulous at this point. I keep my composure and clarify a few details so that I can get my own story out as fast as possible. And I do just that about an hour after the official announcement. The announcement is made just after 4pm (1pm PST) and my post goes out just after 5pm (2pm PST).
Yeah, I am a bit sore but companies are proud of their innovations and want to break their own news about them. There is something really addictive about hitting a publish/send button and instantly reaching thousands (millions in some cases) of people and getting instant feedback so I can't blame them for that aspect of it. I've got used to it. Sucks because I depend on spreading information to make a living and they don't but yeah, I understand. I am a middleman of sorts and will eventually be marginalized into oblivion (another post topic!).
Anyway, a couple hours go by and…wait a minute…
What is this that just scrolled down my Twitter timeline?
A link to….TechCrunch's…post…about…the…Twitter…age…screening…service. I track down the original tweet from @TechCrunch.
Sure enough…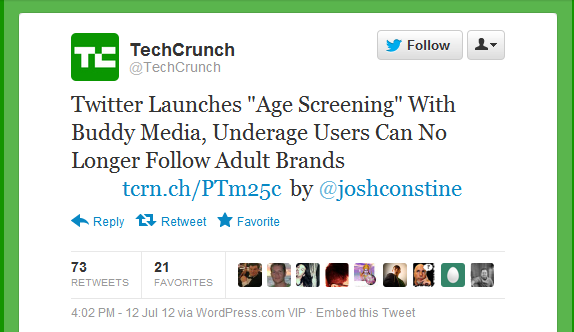 Shenanigans!
Someone with either Twitter or Buddy Media or both gave TechCrunch the full details well ahead of time and told them to wait until 4pm EST (1pm PST). Yes, the exact website that I mentioned in my original email. The exact site to which I feared that they would feed the story.
TechCrunch is a behemoth of a website. Maybe 100x the size of mine. I don't even know. I don't know how many dozens of posts that they get out each day or how many writers they have on staff. I am confident that I want work more hours each week than every last one of them. I hustle for these scoops.
It sucks to put everything you have into something and have perfect strangers break your trust like that.
I love Twitter. I really do.
The first time I linked to the service from BeerPulse (then-Beernews.org) was in June, 2008. I even wrote a post the following January about the 40 or so breweries that I had spotted using Twitter. Then I dedicated a whole page listing them out with links and everything which I've since destroyed since there are at least a couple thousand breweries using Twitter now. And then that post about Twitter's first day ever…
Damn. That sucked.
On the bright side, at least I beat Mashable…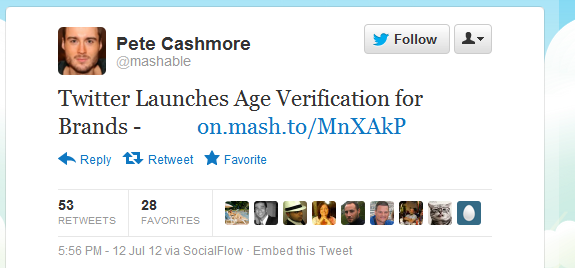 #firstworldproblems, right?